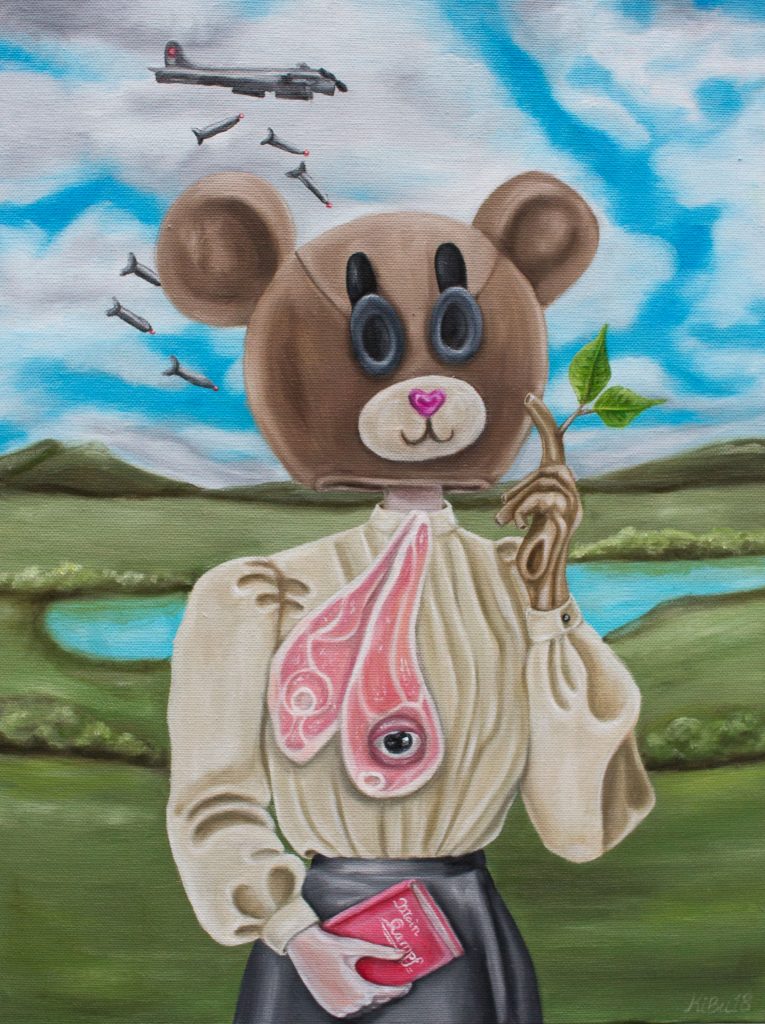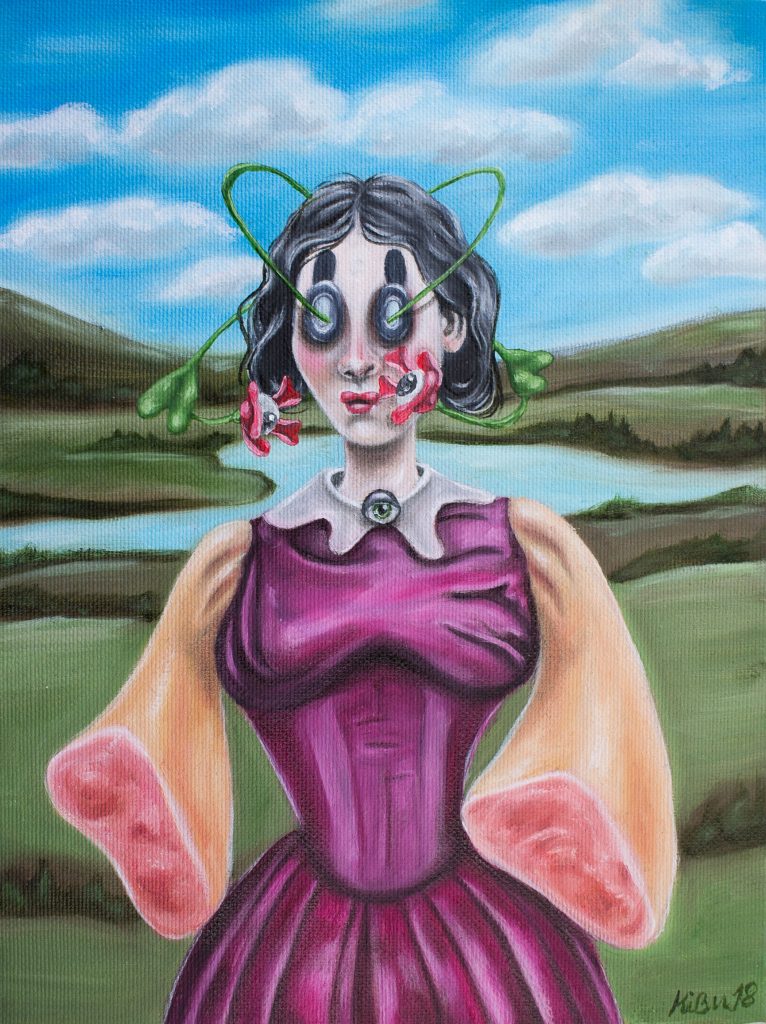 By Connie Boe Boss
Published in Kunstavisen 19 October 2019 and on Cobobo Blog 
Danish pop surrealism or lowbrow
Kitt Buch, 35, paints in the genre of pop surrealism or lowbrow.
She is consistent in her expression and there are typically two reactions to her paintings: either people love them or they really don't like them. And she feels that's a gift - then they don't matter.
The palette of the oil paintings is colourful. Partly because Kitt likes the pink, purple and deep red colours, partly because in the genre this palette is often used, whether you are a woman or a man. It's a particular characteristic of the genre, as is the cartoonish quality.
The way Kitt paints is not very well known in Denmark but quite widespread abroad. It's all about getting used to it for us here at home - I've had to get used to Kitt too. And now I'm a fan!
A special family background
Kitt Buch comes from an old gypsy family, made up of people who walked the streets as brushbinders, clowns, circus performers and Kitt herself is a mix of all sorts of genes from all over Europe. Her own generation is the first to have had a long-term education, and she strikes me as a very gifted and well-read artist, with references to literature, psychology and quantum physics flying around in the interview.
Originally, she is a trained clothing designer and has sewn beautiful, avant-garde creations, which can also be seen in costumes which appear in her paintings.
Burlesque and theatre
Probably because the family is so colourful, the burlesque and theatre environment attracted Kitt, and from here she gets the inspiration for her burlesque-inspired scenes in the paintings. This whole environment is again influenced by the decadence of old castle environments and bourgeois living rooms, with red velvet curtains and heavy furniture.
The social games in these rooms fascinate her - the correct demeanour, stiff collars and corsets, the neat life behind which the facade cracks and the dark and strange rears its head. The masks we all wear, our branding of ourselves in the world and how much we were not, and still are not, allowed to say.
The paintings
In a very personal way she shows how we all have shadow sides. How we all, to one degree or another, have bad habits that, in unfortunate circumstances, can be unleashed and awaken our inner monster, so that everything is distorted. She makes the fabulous, magical and whimsical and the harsh, black and unsentimental her language. Life is distorted into fairy-tale idyll, and disaster often lurks on the periphery; the dichotomy between the ugly and the beautiful is depicted.
Notice the many eyes - they are always there, the eyes - at least one, often more than two. The eye can be a higher insight - or a glance inwards, or they can be like atoms crossing each other.
Symbols abound: a Nazi uniform with hearts and a Mickey Mouse belt, both ridiculing and exposing patriarchy. A painting of a woman in menswear holding the poison apple from the fairy tale or the apple from the tree of knowledge.
In the foreground often one or more figures, in the background theatre carpets, landscapes and symbols of the end of the world in the form of pink toadstool clouds or falling bombs.
Fixed figures
Human-like figures almost always appear in Kitt's paintings, but they are not portraits as such. It is a painting of a scene, a feeling. It's a kind of portrait of life and the world around us, and we've been using the human figure for that all along.
The fixed figures recur in different versions and ages. There is the protagonist - Kitt's heroine (the one who has had to go through a lot), there is the gas mask mouse who is the protagonist's support or commentator, there is a teddy bear, birds and in the future you will be able to meet QuantumBunnies - inspired by quantum physics.
Meat
Kitt's use of raw meat is almost a painterly exercise. It is texture, colour and expression and already the father of Pop Surrealism, Mark Ryden, painted his meat works - for example Carnation and Meat - some 20 years ago.
The aesthetics of meat often seem grotesque and can be a fantastic tool for triggering thoughts and emotions in the viewer. Meat is symbolic, as surface and as what is beneath the surface , it is animal and masculine powerful. Flesh is skin turned inside out.
And it's beautiful, Kitt thinks. The marbling, the reddish, purple, yellowish hues that carry equal parts ferocity and serenity.
Inspiration
Kitt is a thorough and structured artist. The sketchbook is everywhere and a recent trip to Barcelona resulted in a series of new watercolours, a medium she has worked in before. Here, for example, the Mortadella sausage inspired a tie.
Everything in a painting is an aesthetic choice for Kitt and therefore not all elements are meant to have specific significance. She herself says: "A thousand impressions from my life create the images. Every element is un explainable, sometimes they are a stylistic choice. I collect things from literature, movies, travel and people I talk to. Everything inspires me – quirks and curiosities seem to find their way into my paintings."
Kitt Buch is represented by Galleri kbh kunst in Copenhagen.