Apocalyptic Absurdities: An Interview With Pop Surrealism Painter/Sculptor Kitt Buch
Article by Elizah Leigh for Beautiful Bizarre Magazine
Published in English on Beautiful Bizarre Magazine's website February 2023.
"When I made the decision to work as a full-time artist back in January 2017," Kitt Buch tells us, "I was aware that it wouldn't be an easy path to tread, but I also knew that there was no other thing that I wanted to do more than this." The pop surrealist painter/sculptor - whose comically ominous, dual-dimension mythologies play out "in the past, the now and the future" - offers a refreshingly balanced account of her "exciting, invigorating and very playful" career path that at times can still be "tedious and draining".
"My characters are emblematic of how humanity is able to continue living day to day in spite of imminent doom looming over our heads."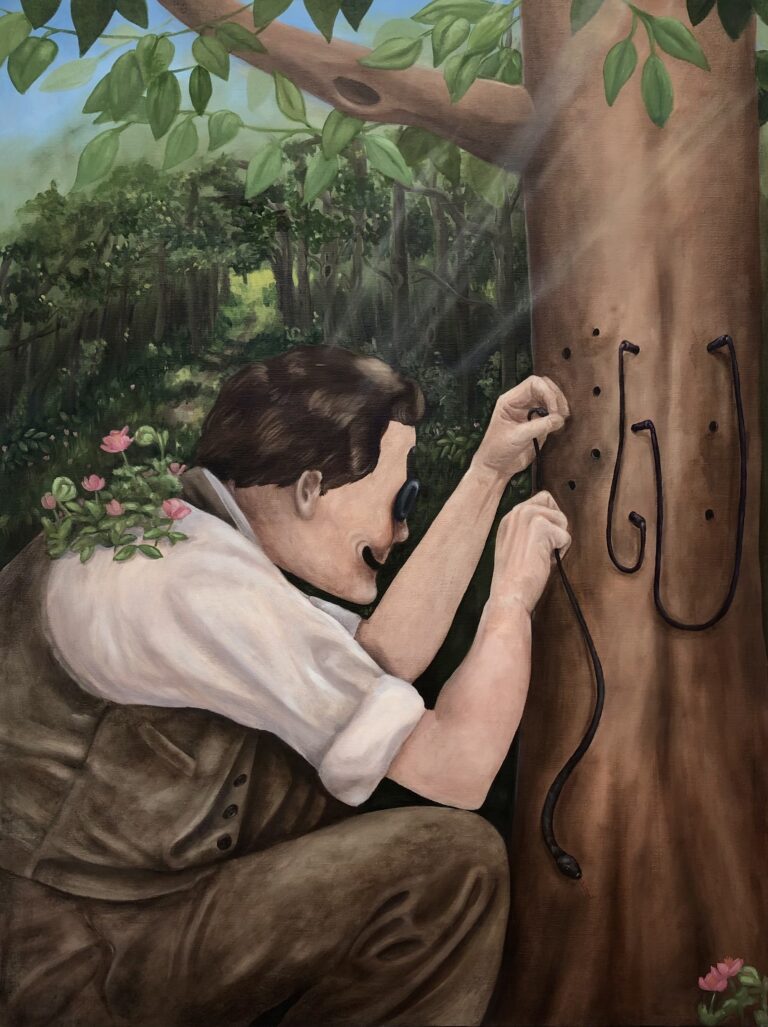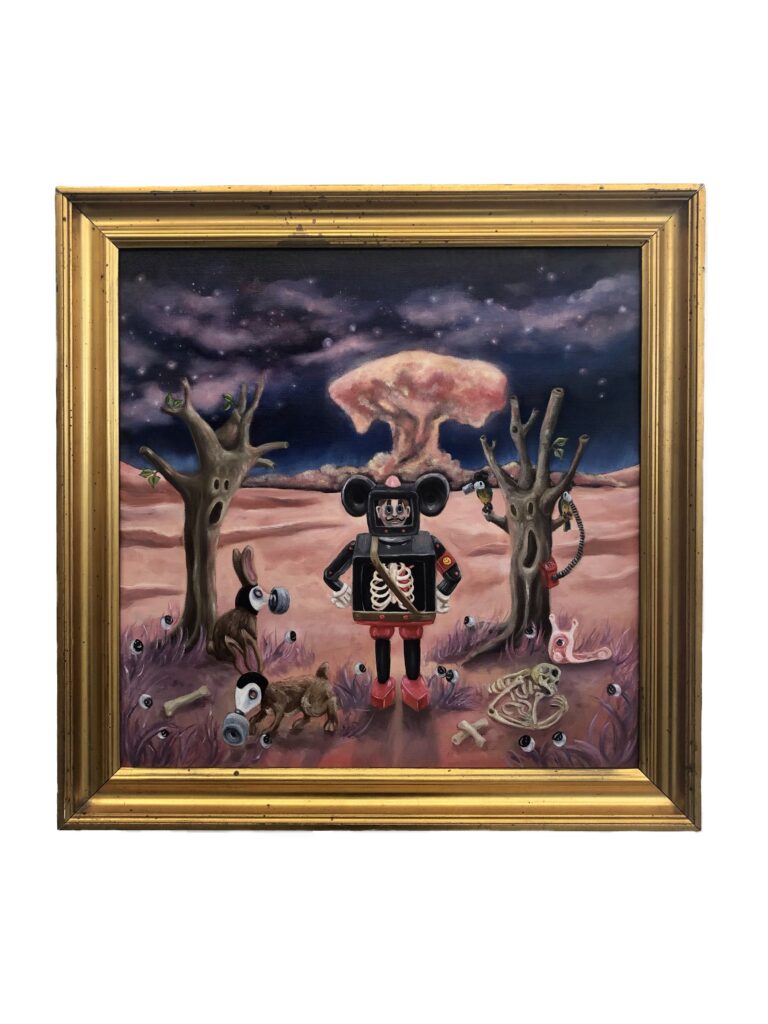 Kitt Buch's Humorously Dark Pop Surrealistic Paradoxes
Article by Elizah Leigh for Beautiful Bizarre Magazine
Published in English on Beautiful Bizarre Magazine's website April 2022.
While devising the most compelling mise-en-scène for her painting and sculpting practice back in 2017, Kitt Buch thought about the various "myth-based belief systems that humanity constructs" as well as "the religious and scientific symbols that figure into our lives". Many of our deep-seated adult ideologies begin with the well-intentioned storytelling traditions set forth by our mommy-daddy heroes. Of course, no one can blame our parents for easing us into this stormy world by conjuring a rose-coloured perspective of our future, but did the 'dreams really come true' fairy tales that they spoon-fed us - which pop culture then endlessly reinforced - inevitably set us up to crash and burn? Kitt Buch pondered the perennially optimistic tales dancing around in our heads. They were generally the product of the gloriously illustrated storybooks that lulled us off to blissful sleepytime land and the endlessly enchanting Hollywood films that we excitedly viewed.
Kitt Buch - A visual fairytale teller
Interview and portrait by Louise Jørgensen
Published on Magasinet Kunst's website on 28 April 2020.
Figurative, colourful and fascinating. Frightening, ongoing and strangely present. Such is Kitt Buch's antagonistic fairy-tale landscape. A universe filled to the brim with surreal cartoon creatures, fantastic tales full of symbolism, flower wreaths and skulls. Flesh, death and nuclear bombs. Missiles, gas masks and eye flowers in one beautiful, terrifying and twisted combination, in the middle of picturesque landscapes worthy of a Jane Austin novel. We're right here, right there, in between your world, mine, and ours as we know it and as we've never seen it before. All at the same time. In other words, it's a blast when you let your eyes explore Kitt Buch's magical world of pop surrealism, romance and social criticism. Let me introduce: @kittbuch.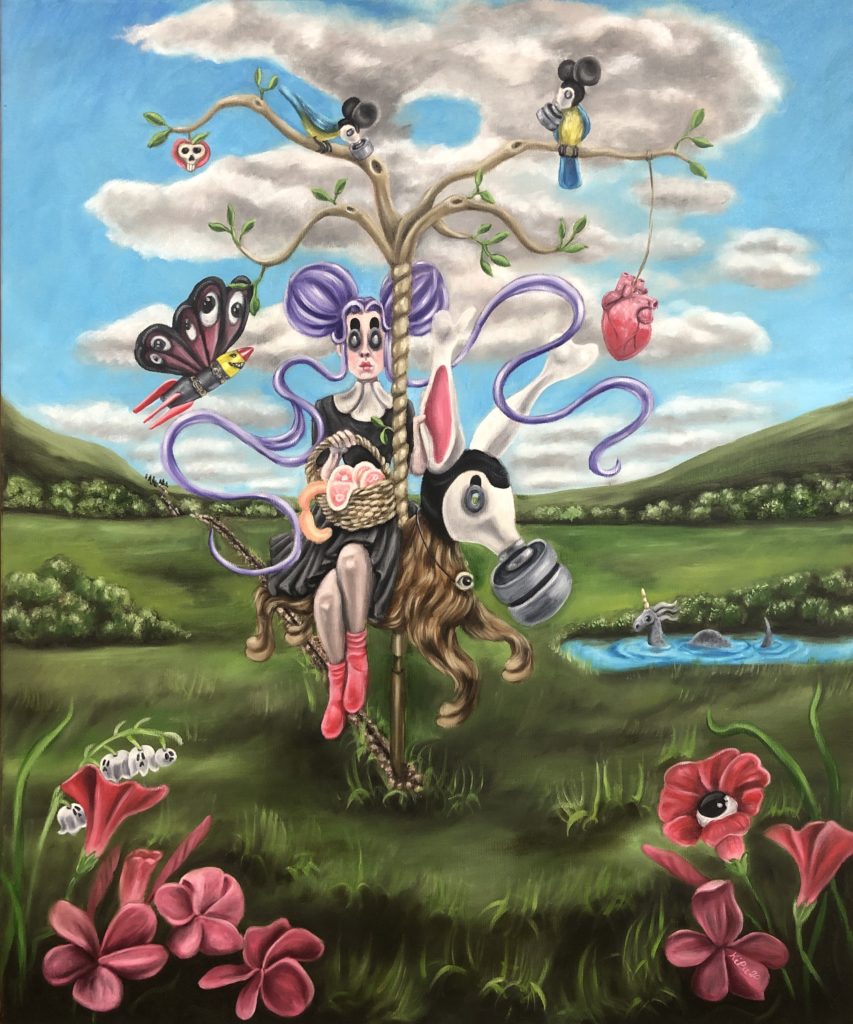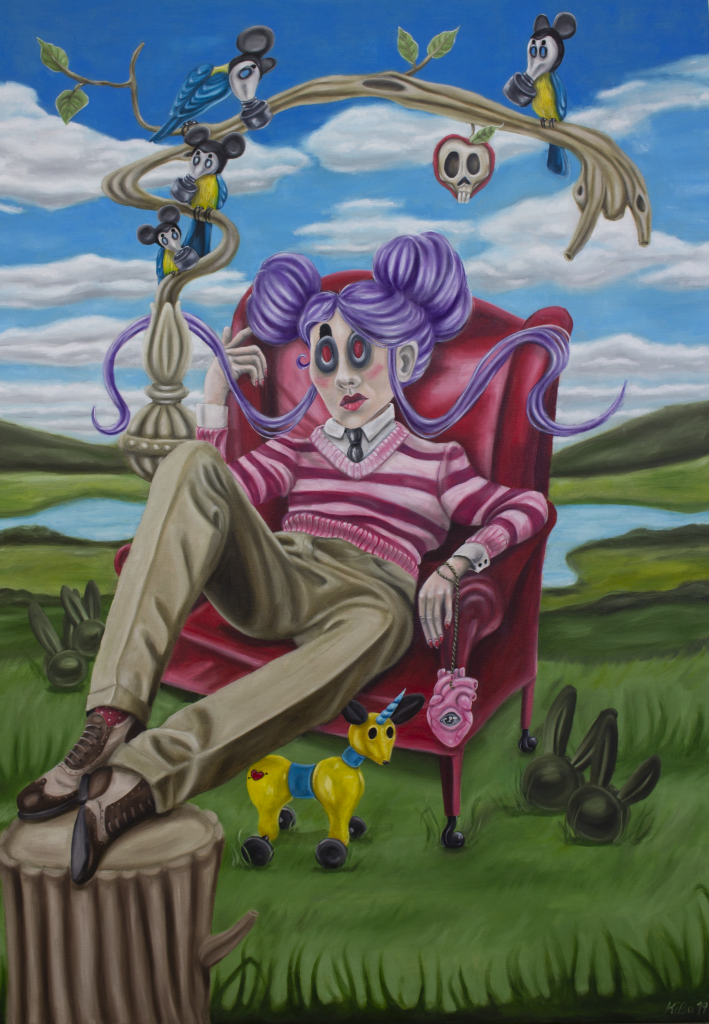 Interview/portrait by Connie Boe Boss
Published on the blog Cobobo Blog and Kunstavisen October 2019
DANISH POP SURREALISM OR LOWBROW
Kitt Buch, 35, paints in the genre of pop surrealism or lowbrow.
She is consistent in her expression and there are typically two reactions to her paintings: either people love them or they really don't like them. And she feels that's a gift - then they don't matter.
The palette of the oil paintings is colourful. Partly because Kitt likes the pink, purple and deep red colours, partly because in the genre this palette is often used, whether you are a woman or a man. It's a particular characteristic of the genre, as is the cartoonish quality.
The way Kitt paints is not very well known in Denmark but quite common abroad. It's a matter of getting used to it for us here at home - I too have had to get used to Kitt. And now I'm a fan!